Southern Table with a Friend
Submitted by Christi
You may remember getting to know Linda Howell previously. She is my good friend who is a great real estate agent and a fabulous actress. Linda invited me out to The Cottage last weekend where we sat at this beautiful table with her gorgeous china and visited.
The china is Montmery by Haviland. It was passed on to her by her mother. She says when her father was made enough money to buy something nice for her mother, he bought her this lovely china. It features pretty little forget-me-nots.
The crystal is over 100 years old. It belonged to Linda's best friend's grandmother and was given to her as a wedding present by her friend's mother. Her friend has since died but Linda uses this beautiful crystal as a way to remember her.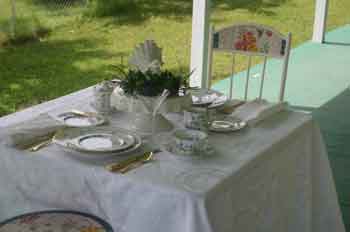 Hope you enjoyed this tablescape and all the others at Between Naps on the Porch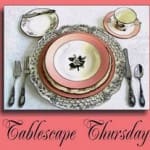 Today's Lagniappe:  BLT Pasta Salad
Something nice for a warm Spring day.
2 cups uncooked pasta
5 green onions, finely chopped
1 large tomato, diced
1/2 cup finely diced celery
1-1/4 cups good mayonnaise (Duke's or Hellmann's)
5 teaspoons white vinegar
1/4 tsp salt
1/4 or more tsp pepper
1 lb bacon, cooked and crumbled (set aside)
Cook pasta according to package directions; drain and rinse in cold water. In large bowl, combine the pasta, onions, tomatoes, and celery. In small bowl, combine mayonnaise, vinegar, salt, & pepper. Pour over pasta mixture and toss to coat. Cover and chill for at least 4 hours. Just before serving, add bacon.
Tags: Southern Friends, Southern Table
9 Responses to "Southern Table with a Friend"
Leave a Reply