Do not forget to entertain strangers,
for by so doing some people have entertained angels without knowing it.
Hebrews 13:2
The holidays are upon us. Only a few more weeks until Thanksgiving and then Christmas and New Years are right behind. It seems like just yesterday we were enjoying the long summer days. Well, November is here now and daylights savings time is over and the days are getting shorter. Even as I am writing this, I can look out my window and see beautiful yellow gold and red trees against a brilliant autumn blue sky.
With the holidays comes entertaining! Here a few easy to make bites for just such occasions.
Hot Brie Kisses
This recipe uses puff pastry, but you could use pre-made phyllo cups to make it even easier.
2/3 pound brie cheese
2 sheets puff pastry
hot pepper jelly
Thaw puff pastry at room temperature for about 30 minutes.
Unfold pastry and roll lightly with a rolling pin to remove creases.
Cut each sheet into fourths, then cut each fourth in half. Cut each piece in half again to produce 16 even squares of dough per pastry sheet.
Lightly spray mini-muffin cups with vegetable oil.
Fit a square of dough into each cup. The pointed edges of the dough should extend straight up.
Cut brie into 1/2″ squares. Place a piece of cheese into each dough-lined cup. Top with 1/4 teaspoon pepper jelly.
Bake at 400 degrees for 10-15 minutes, or until golden.
Famous Disappearing Spinach Dip
Serve this in a hollowed out round of bread or cabbage with crackers and crudites.
1 (10 oz.) pkg. frozen chopped spinach, thawed (do not use fresh)
1 1/2 c. sour cream
1 c.good mayonnaise
1 (4 oz.) pkg. Knorr vegetable soup mix
1 (8 oz.) can water chestnuts, finely chopped
3 green onions, finely chopped
Squeeze spinach until dry. In medium bowl, stir together spinach, sour cream and soup mix. Add finely chopped water chestnuts and green onions. Cover and refrigerate 2 hours or overnight.
Shrimp Cocktail Dip
When I was growing up, shrimp cocktail was served for really special occasions or at fancy restaurants. It went out of style for a while, but is back strong now. This dip is a twist on an old favorite. Serve it with crackers, or toasted baguette slices.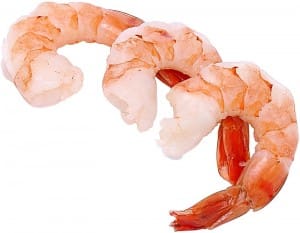 1 cup chili sauce
1 medium celery rib with leaves, finely chopped
1 green onion (that is a scallion in Yankee talk) – white and green parts, finely chopped
1 tablespoon chopped fresh parsley
1 tablespoon fresh lemon juice
1 tablespoon bottled horseradish (more if you want it a little spicier)
Tabasco (to taste)
8 oz. cooked, peeled, deveined, and finely chopped shrimp
One 8 oz. package cream cheese, at room temperature
In a medium bowl, mix the chili sauce, celery, scallion, parsley, lemon juice, hoseradish, and hot pepper sauce to taste. Cover and refrigerate for 2 hours (this part can be prepared up to 2 days in advance).
Stir the shrimp into the cocktail sauce. Place the cream cheese on a serving platter, and pour the shrimp mixture over the top. Serve immediately with crackers or toasted baguette slices.
Be sure to have plenty of cocktail napkins and nice candles on hand for an instant party anytime you please.
Today's Lagniappe: Bloody Mary's
Make up a pitcher and serve the vodka on the side so your friends who are driving or prefer not to drink alcohol can still enjoy the great taste of this classic cocktail. To make them extra special, rim the glasses by wetting with lemon juice and then dipping in celery salt.
3 large stalks celery from the heart, including leaves, plus extra for serving
36 ounces tomato juice
2 teaspoons prepared horseradish
1 teaspoon grated yellow onion
1 lemon, juiced
1/2 teaspoon Worcestershire sauce
1/2 teaspoon celery salt
1/4 teaspoon kosher salt
12 dashes hot sauce (recommended: Tabasco), or to taste
1 1/2 cups vodka
Cut the celery in large dice, including the leaves, and puree in the bowl of a food processor fitted with the steel blade. Process until finely minced. In a large pitcher, combine the rest of the ingredients except the vodka. With the food processor running, pour 1/4 of the tomato juice mixture into the food processor through the feed tube. Then pour the contents of the food processor into the pitcher with the remaining tomato juice mixture. Add the vodka and chill or serve the vodka on the side.  Serve in tall glasses over ice with a stick of celery.
It's a three-for Tuesday! Join these great blogs for more recipes and great ideas.
Balancing Beauty and Bedlam's Tasty Tuesday
Blessed with Grace's Tempt My Tummy Tuesday