It is Derby Day! Time to run for the roses, but in my case it will be for the pinks!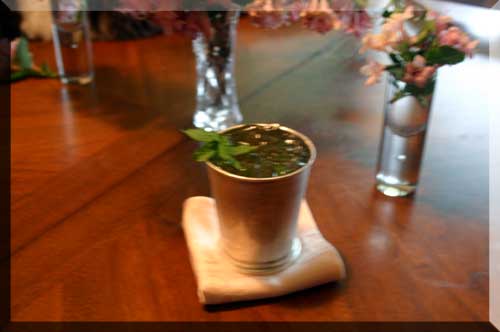 Ready with a mint julep on a pale pink napkin in front of the pink flowers. Where did I get the flowers?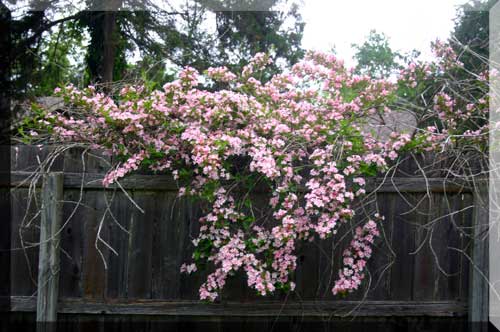 From the back fence! Aren't they beautiful. Let's take a closer look.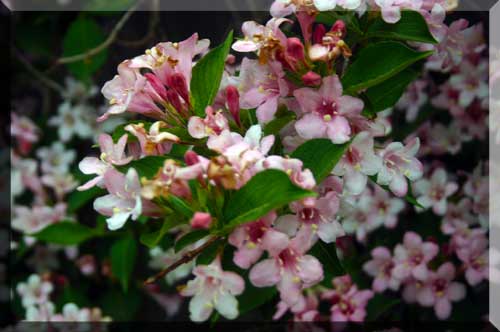 Now, I just have to get out my pink hat and I'll be ready! I'll try to remember to put a pic of the hat on once I get it out. But, for now . . . I'm going to enjoy a lovely Saturday. Hope you will too and have a great:
Today's Lagniappe: Kentucky Hot Brown
Something to eat while you sip that mint julep! This recipe is from Bobby Flay.
4 ounces butter
Flour to make a roux (about 6 tablespoons)
3 to 3 1/2 cups milk
1 beaten egg
6 tablespoons grated Parmesan cheese, plus extra for topping
1 ounce whipped cream (optional)
Salt and pepper, to taste
1 cup Sauteed mushrooms
1 whole tomato, sliced
Slices roast turkey
8 to 12 slices of toast (may be trimmed)
8 to 12 strips fried bacon
Melt butter and add enough flour to make a reasonably thick roux (enough to absorb all of the butter). Add milk and 6 tablespoons Parmesan. Add egg to thicken sauce, but do not allow to boil.
Remove from heat. Fold in whipped cream. Add salt and pepper to taste.
For each Hot Brown, place 2 slices of toast on a metal (or flameproof) dish. Cover the toast with mushrooms and thinly sliced tomatoes, then cover with a liberal amount of turkey. Pour a generous amount of sauce over the turkey and toast. Sprinkle with additional Parmesan. Place entire dish under a broiler until the sauce is speckled brown and bubbly. Remove from broiler, cross 2 pieces of bacon on top and serve immediately.