Southern Thanksgiving Eve
Submitted by Christi
On Thanksgiving eve, my mother and I did a lot of cooking so we could have as much done ahead of time as possible. After that was done, the rest of the family began to arrive. We prepared chili and all the fixins for everyone to have as they arrived. Easy and delicious and now we are read for the big day!
A Happy Thanksgiving to all of you from A Southern Life!
Visit Between Naps on the Porch to see all of the great tablescapes this week!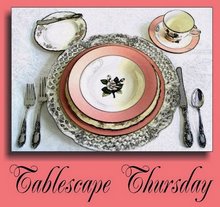 Today's Lagniappe: Red Pepper Straws
Something easy and delicious from Country Living
1 shallot, finely chopped
2/3 cup chopped marinated roasted red pepper
1 tablespoon olive oil
1 1/3 cup grated Parmigiano-Reggiano, plus more for sprinkling
2 sheets thawed frozen puff pastry
11 Responses to "Southern Thanksgiving Eve"
Leave a Reply