Wow, Thursday, December 17th is my 1 year blogversary. One year ago, I had never heard the term blogversary!
A little over a year ago, I had been thinking that I would like to have a blog. I had taught etiquette courses and I collect etiquette books and cookbooks and have a pretty good collection of decorating books. I also love to garden and was a Master Gardener for three years. Although my professional life has always revolved around teaching computer programs and information technology, I really wanted to get back in touch with my more creative side. I even went as far as purchasing my domain name (asouthernlife.com).
As it happens, I unfortunately, or actually fortunately, as it turns out, lost my last IT job. With a little time on my hands, I started the blog that I had been thinking about so long. I never imagined how many wonderful people I would meet in blogland and how much fun it would be getting to know everyone. The first couple of weeks, only my family even knew about and read my blog, but things soon began to pick up. I started visiting more blogs and interacting with everyone and that was just the best thing in the world. I have been so inspired by so many of you.
It is fitting that it is time for Tablescape Thursday. Tablescape Thursday was the first blog party I every participated in. What a fun time it was. This is still my favorite party. Thanks Susan for all your inspiration and the opportunity to see what kind of tablesettings everyone has. As someone who had several tablesetting books and enjoyed just going through them and looking at the pictures, this was right up my alley!
Okay, I had a lot planned for my blogversary that will have to wait for now. I have been meeting with potential website design and search engine optimization clients this week and preparing proposals and, blah, blah, blah. Unfortunately, that had to take priority and I didn't get everything done as I had planned. Stay tuned though, because it is some fun stuff!
Alright, on with Tablescape Thursday!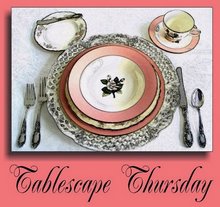 Something for Christmas!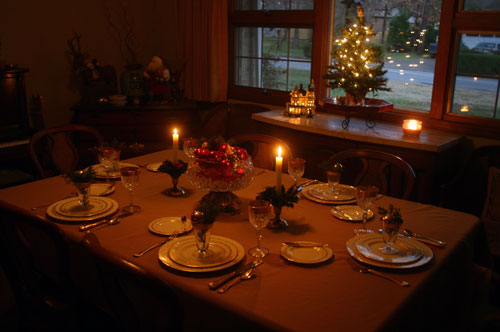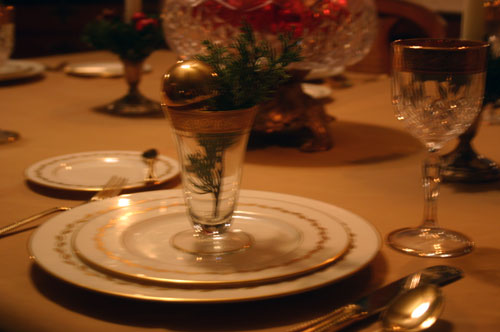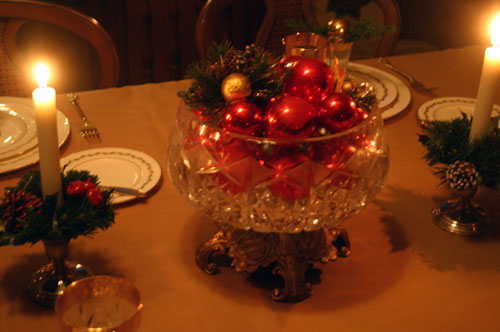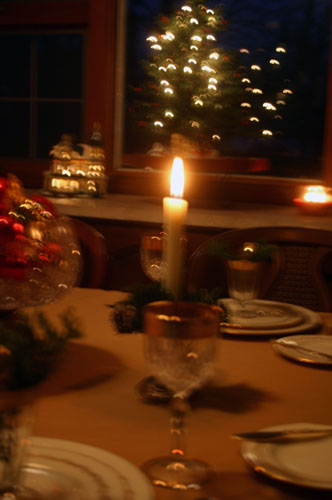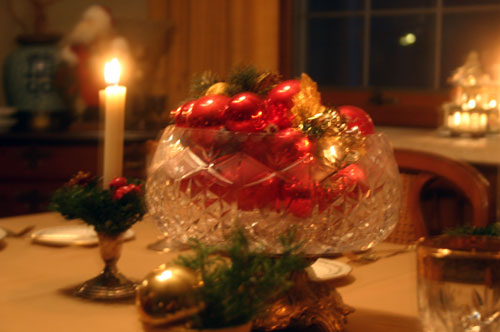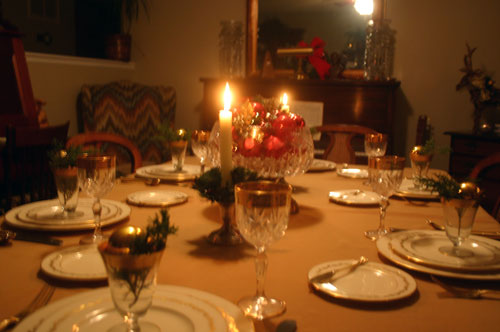 On the piano is the sheet music for White Christmas from when I was taking piano lessons as a young teen. I still enjoy playing it.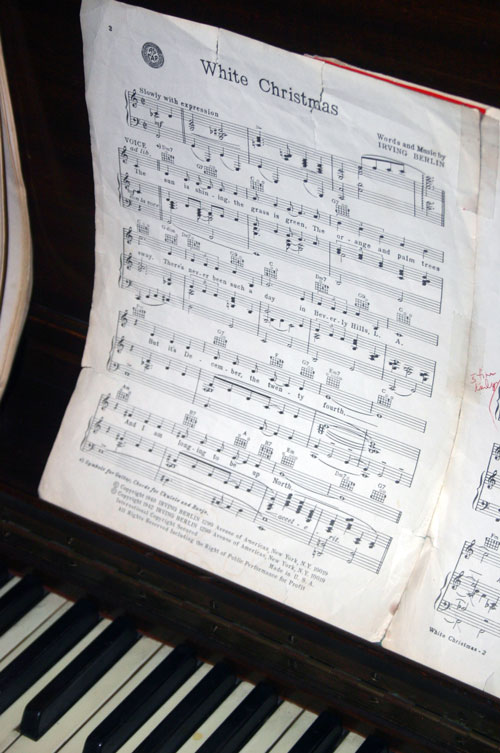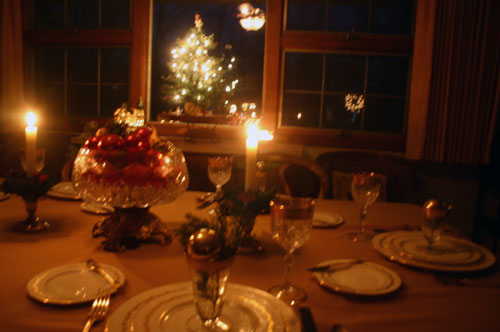 From the outside, looking in: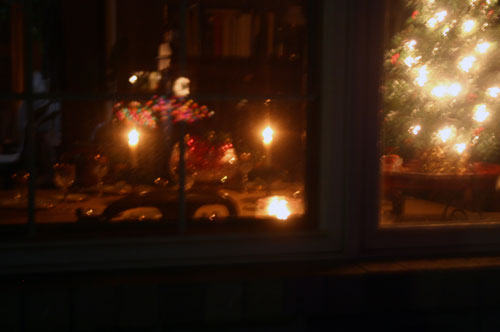 Today's Lagniappe: Spiced Pecans
I added the lagniappe (a little something extra) on January 8th of 2009, a little less than one month into blogging. I have really enjoyed this part of the blog. I hope you have too!
1 cup sugar
1/2 teaspoon salt
1/4 teaspoon ground nutmeg
1 teaspoon ground cinnamon
1/8 teaspoon ground cloves
2 tablespoons butter
1 teaspoon vanilla
2 tablespoons water
1 cup pecans, cashews, walnuts, or mixture, toasted*
Combine sugar, salt, nutmeg, cinnamon, cloves, butter, vanilla and water in saucepan. Cook stirring constantly, until a small amount dropped into cold water forms a soft ball, about 236° on a candy thermometer. Stir in toasted nuts. Remove from heat and stir until no longer glossy. Pour into buttered baking sheet and spread thinly. Cool, and break into pieces.
*To toast nuts, spread out in a single layer on a baking sheet. Toast in a 350° oven, stirring occasionally, for 10 to 15 minutes. Or, toast in an ungreased skillet over medium heat, stirring, until golden brown and aromatic.