Well really, the best metamorphosis to me right now is how each day the sun stays out longer. My friends from Down Under are experiencing the opposite! Right now, as each day grows longer, I am more and more anxious for Spring. Nothing says Spring to me more than Easter, and of course, celebrating Carnival and Mardi Gras seem to help speed along the process during the dark winter days. Actually, it was sunny and in the 50's here today, which makes me understand why so many people choose to retire in the South. Bring on the SUNSHINE!!!!
Here is the top of the piano before:
I'll have to say the fern does bring a nice outdoor touch.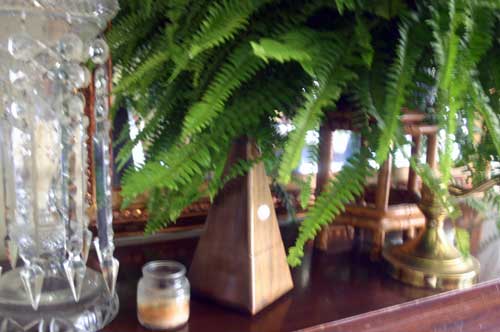 Here it is now, decked out for the Carnival Season and Mardi Gras!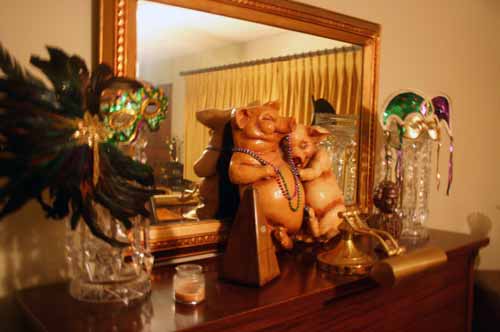 The lusters are now wearing Mardi Gras masks and the contented piggies in the middle are wearing Mardi Gras beads. We picked up the piggies on the New Orleans leg of our honeymoon. We had just had breakfast at Brennan's and felt just like these little piggies look!
Hope you are enjoying some longer days with more sunshine and can find something fun to celebrate!
Today's Lagniappe: Tobasco's Bloody Mary's
From the Tobasco site – Bloody Mary's by the pitcher to help celebrate the season
1 (32-ounce) bottle TABASCO® brand Mildly Seasoned or Extra Spicy Bloody Mary Mix
1 1/2 cups vodka or gin
Lime slices or celery stalks
Combine TABASCO® Bloody Mary Mix and vodka in a 2-quart pitcher; stir well and chill. Pour into ice-filled glasses and garnish with lime or celery.
History – Birth of a Cocktail. Learn more about it.
Makes 8 servings.