Southern Spring Fever
Submitted by Christi
As I write this, I see that Texas, even as far South as Houston is getting SNOW! That is just insane. I remember when Fall was a couple of weeks in December and Winter was about a month or so between the end of December and the end of January. Oh, how I loved the buds of Spring that were starting to come forth by Valentine's Day.
Well, apparently, that is not the case this year. However, Spring is trying to make an appearance.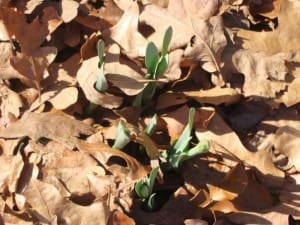 Just those first sprigs of green springing forth through the cold ground can really lift y0ur spirits. You know that soon, the landscape will be covered with color and all of the drab colors of Winter will be GONE!
Another favorite? Spring Strawberries!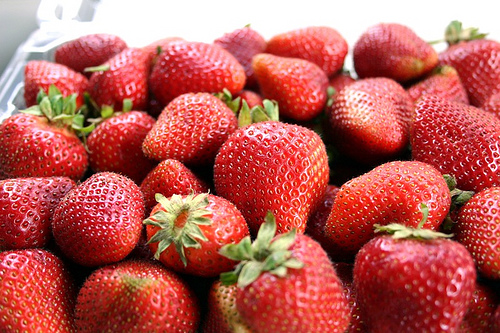 Hooray for SPRING! Come soon – We miss y0u!
A little outdoor pic for Outdoor Wednesday with A Southern Daydreamer and Rednesday! with It's a Very Cherry.

Today's Lagniappe: Hurry Spring Salad
1 romaine lettuce heart
4 to 6 slices thick-cut bacon, cooked until crisp, cooled, and chopped
1/2 pint grape tomatoes, halved
2 carrots, peeled and thinly sliced
1 yellow bell pepper, chopped

1 English cucumber, halved lengthwise and thinly sliced
1/2 cup chopped walnuts
Coarse salt and freshly ground pepper to taste
Salad Dressing (Your favorite – suggested: blue cheese or ranch)
Chop the lettuce heart into 1- to 2-inch pieces. Combine it with the bacon, other vegetables, and nuts in a large bowl and toss the mixture well.
Keep the salad chilled until serving time. Then toss it again with enough dressing to lightly coat the vegetables, and season it with salt and pepper. Serves 6.
15 Responses to "Southern Spring Fever"
Leave a Reply