Southern Turkey
Submitted by Christi
I know that the color pink is not something you usually associate with a turkey!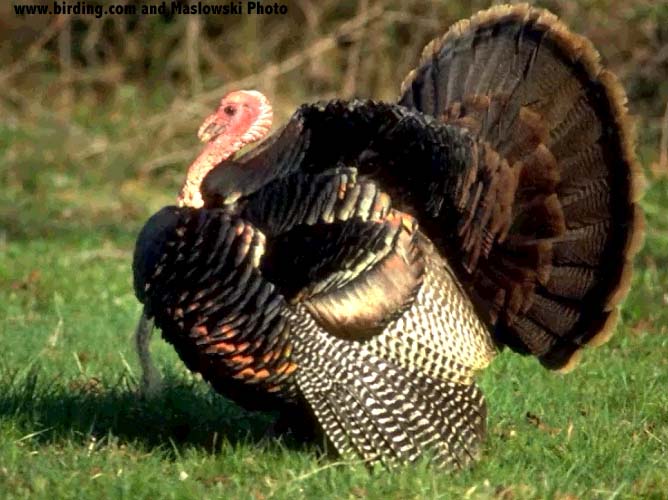 However, according to birding.com, the quick way to identify the wild turkey is:
Dark, iridescent body bare head is pink and blue Male has red skin patch on throat.
How do you love that?
Happy Pink Saturday! Don't forget to check out How Sweet the Sound with Beverly to see a lot of pink fun!
Today's Lagniappe: Turkey x 3
A couple of Thanksgiving cocktails made with, what else, Wild Turkey and a crockpot turkey recipe.

Thanksgiving Cocktail
* 1 1/2 oz Wild Turkey
* 1/2 oz Applejack
* 1 tsp Rose's sweetened lime juice
* 4 oz Cranberry juice
Mixing instructions:
Fill Collins glass one-half full of ice, add ingredients and stir. Garnish with a lime wedge, if desired.
Turkey Trot
* 2 cups Cranberry juice
* 2 cups 7-Up
* 1 cup Wild Turkey
Mixing instructions:
Mix with a stirrer in a pitcher then pour over ice into glasses.
Crockpot Turkey with Garlic
* 1 1/2 pounds boneless turkey thighs, skin removed
* salt and pepper or lemon pepper to taste
* 1 tablespoon olive oil
* 6 cloves garlic, left whole
* 1/2 cup dry white wine
* 1/2 cup chicken broth
* 1 tablespoon chopped parsley
Season turkey with salt and pepper or lemon pepper. In a large skillet over medium-high heat, heat olive oil. Add turkey thighs; brown for about 10 minutes.
Place turkey in slow cooker; add remaining ingredients. Cook on HIGH for 3 to 4 hours, or until turkey thighs are cooked through. Remove garlic cloves from pot. Mash a few and return to the slow cooker, if desired. Serve turkey with juices.
3 Responses to "Southern Turkey"
Leave a Reply