Southern Mardi Gras Wreath
Submitted by Christi
Just a little more Mardi Gras color around here.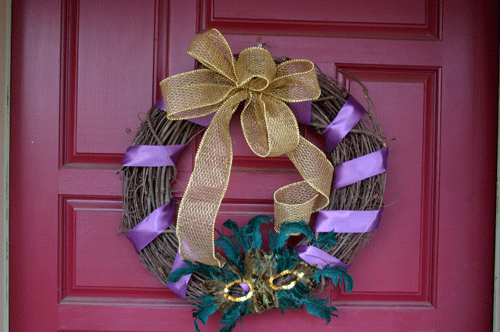 It has the traditional Mardi Gras colors of purple, green and gold. Just a grapevine wreath draped with purple ribbon and adorned with a big gold bow and a fun Mardi Gras mask. Couldn't be easier!
Today's Lagniappe:  Cajun Catfish
From Betty Crocker something a little spicy and fun for catfish. Do you think Betty Crocker was Cajun? LOL!
2 cups vegetable oil
1 cup Gold Medal® all-purpose flour
1/2 cup stone-ground cornmeal
2 tablespoons Cajun Creole seasoning
1 teaspoon onion powder
1 teaspoon garlic powder
1/2 teaspoon ground red pepper (cayenne)
1 egg
2 pounds catfish nuggets, skin removed
Salt
1/4 cup lemon juice
1. In heavy 3-quart saucepan, heat oil over medium-high heat to 375°F.
2. In shallow dish, stir together flour, cornmeal, Creole seasoning, onion powder, garlic powder and red pepper. In another shallow dish, beat egg with fork until foamy.
3. Sprinkle catfish nuggets with salt and lemon juice. Dip each nugget into beaten egg, then roll in flour mixture to coat. Drop 4 to 6 nuggets at a time into hot oil. Cook 2 minutes; turn and cook 1 minute longer or until deep golden brown. Remove from oil; drain on paper towels.
Makes 8 servings
Leave a Reply