Fish on Friday
Submitted by Cindy
New Orleans is a very Catholic city.  I'm not Catholic, but I heartily endorse one of the faith's tenets – the "sacrifice" of eating seafood as opposed to meat.  On a recent Friday during Lent, I decided to honor the occasion by featuring Louisiana specialties from the sea.
For starters, we had Crawfish Bisque.  I have to confess that it wasn't my creation – it was stashed in the infamous freezer after a catered party I hosted.  The main course was Trout Pecan accompanied by a rice pilaf.  My husband caught the trout while on a male bonding office outing, and it arrived home cleaned and filleted.  (Any time, dear!)  The dessert was a praline parfait.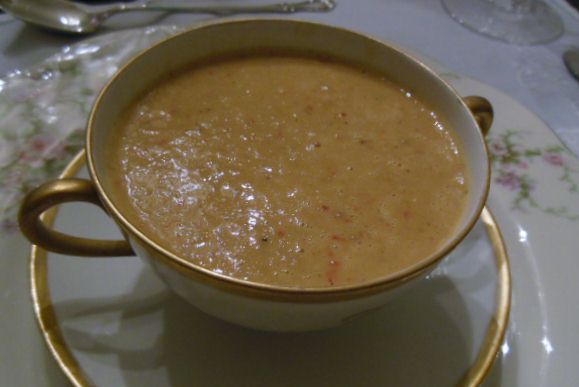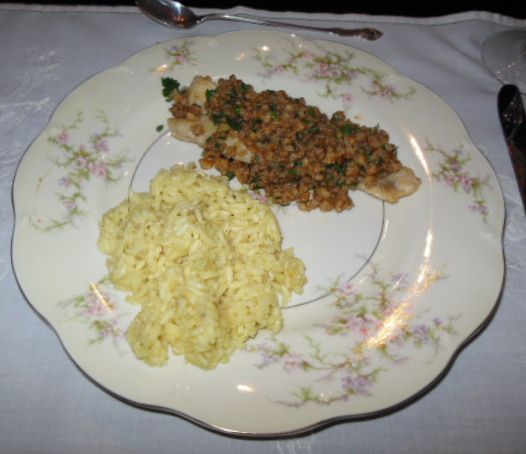 I wanted to use a soup set I'd inherited from my grandmother, so I decided to make it a formal occasion, with the good china, silver and crystal.  My goal is to use our nice things a lot more, not just for Thanksgiving and Christmas.
The next time you want an alternative to meat, here's a recipe worth trying.
Trout Pecan
4 trout fillets
1 tsp. Cajun seasoning (or 1/4 tsp. cayenne, ½ tsp. salt, ¼ tsp. pepper)
1/2 cup all-purpose flour
1 1/4 sticks butter, divided
3/4 cup pecans, chopped
2 tablespoons lemon juice (preferably fresh)
1/3 cup chopped parsley
Pat fillets dry and rub with seasoning. Dredge in flour.
Heat 1/2 stick butter in a heavy skillet over medium heat until foam subsides, then cook trout 4 minutes. Turn fish over and cook until just cooked through, 1 to 2 minutes more. Transfer to a plate and keep warm.
Pour off butter from skillet and wipe clean, then cook pecans with remaining 3/4 stick butter, 1/4 teaspoon salt, and 1/8 teaspoon pepper over medium heat, stirring occasionally, until golden-brown, about 2 minutes. Stir in lemon juice and parsley and spoon over trout.
Click to enlarge and for captions.
Leave a Reply