Southern Drinks on the Porch
Submitted by Christi
You may remember, Monday, I mentioned that last Saturday night a few friends came over for drinks on the porch. Well here are the pics for Tablescape Thursday with Susan at Between Naps on the Porch.
I am always looking for inspiration and I get so much from all of you. Here is the inspiration for this weeks table: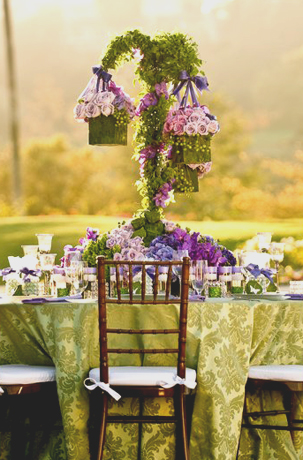 I saw this on the save on crafts website (you can go there by clicking on the pic). This look was created for a wedding. I loved the double shepherd's hook on the table. I had a double shepherd's hook but I didn't want to use it in the middle of the table, nor, did I need anything that formal. I just took their idea and made a less formal, kind of rustic, shabby chic version. This is what I did:
We watched the fireflies, listened to the crickets and birds and visited and had a wonderful time.
Wish all of y'all could have been there. I'll admit, mine is not nearly as polished as the magazine shoot. I just used what I had on hand and I was not planning anything so formal as a wedding. I actually didn't have to purchase anything for the shepherd hook look and I kind of like the shabby chic approach to this.
I think there are a lot of possibilities here. Maybe in the fall, hang mums and wrap around a fall garland. For a patriotic look add red ribbon to the hooks and patriotic plant pokes to the hanging plant. I'll try some different ideas and let you know how they turn out.
Oh, by the way, my friends Mark and Kim brought the beautiful  hydrangeas in the jar with the pretty plaid ribbon. They looked very pretty on the table. Wasn't that so sweet of them?
Today's Lagniappe:  Grilled Shrimp
We kind of went with a Mexican flavor for the party and all of the recipes are on this blog. Southwestern Cheesecake, Shrimp Dip, Guacamole and Lemon-Thyme Cookies. This grilled shrimp would have fit right in!
1 lb peeled, deveined shrimp (any size)
olive oil
paprika
garlic salt
Old Bay Seasoning
1 lime
Drizzle enough oil over the shrimp to coat. Sprinkle paprika, garlic salt and Old Bay, to taste (I use about 1/2 teaspoon of each for 1 lb of shrimp).Place on wooden skewers which have been soaked in water for 1 hour.
Put on grill, cooking until shrimp tails turn white. Flip and cook for 1 1/2 to 2 minutes more (depending on size).
Squeeze lime over the cooked shrimp and serve as an appetizer, or add to corn tortillas for shrimp tacos.
Tags: Southern Entertaining, Southern Table
33 Responses to "Southern Drinks on the Porch"
Leave a Reply