Do you have recipe sites that you routinely visit? I do! Some of my favorites are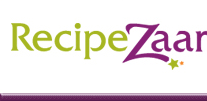 And then, of course there are the great blog parties with recipes, like today's party at Gollum's
What are your favorite recipe sites?
Today's Lagniappe: Melon, Mozzarella, and Prosciutto Skewers
This lovely recipe is from All Recipes. If you can't find prosciutto, use thin sliced ham. That is one of things I love about recipes, you can change them to suit what you have and what you like and many times they are  a "jumping off" point to a great new recipe. Check out this recipe on the All Recipe site for nutrition information.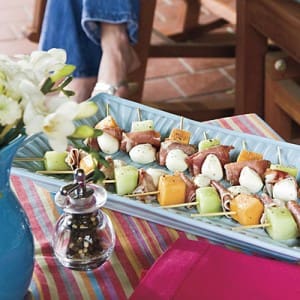 * 20  (1-inch) cantaloupe or honeydew cubes (about 2 1/2 cups)
* 20  thin slices prosciutto (about 1/2 lb.)
* 20  fresh small mozzarella cheese balls (about 1 [8-oz.] tub)
* 20  (4-inch) wooden skewers
* Freshly cracked pepper
Preparation
1. Thread 1 melon cube, 1 prosciutto slice, and 1 mozzarella ball onto each of 20 (4-inch) wooden skewers. Sprinkle with cracked pepper.
Note: For testing purposes only, we used Il Villaggio Mozzarella Fior di Latte Ciliegine cheese for mozzarella cheese balls.