Southern Wednesday
Submitted by Christi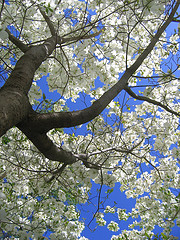 Well, all of the Mardi Gras decorations come down today. My husband is sad about this. He really enjoys the Mardi Gras season. He is ready to have another party! He suggested St. Patrick's, I countered with Kentucky Derby. I think the first Saturday in May will be sufficient time for our friends to recover from the Mardi Gras party (not to mention me).
Of course, there are plenty of opportunities for family celebrations in that time as well. I love the Easter season – definitely family time. The return of Spring! It makes me happy just to think of the blooming dogwoods and redbuds and daffodils and forsythia.
Okay, I've talked myself into the mood for more party planning but it will have to be after Easter. I think I'll go out and buy some seeds to get started for the Spring and then start thinking about a Kentucky Derby party!
Today's Lagniappe: Baked Potato Soup
12 slices bacon
2/3 cup margarine
2/3 cup all-purpose flour
7 cups milk
4 large baked potatoes, peeled and cubed
4 green onions, chopped
1 1/4 cups shredded Cheddar cheese
1 cup sour cream
1 teaspoon salt
1 teaspoon ground black pepper
Place bacon in a large, deep skillet. Cook over medium heat until browned. Drain, crumble, and set aside.
In a stock pot or Dutch oven, melt the margarine over medium heat. Whisk in flour until smooth. Gradually stir in milk, whisking constantly until thickened. Stir in potatoes and onions. Bring to a boil, stirring frequently.
Reduce heat, and simmer 10 minutes. Mix in bacon, cheese, sour cream, salt, and pepper. Continue cooking, stirring frequently, until cheese is melted.
Tags: gardening, Living, Southern Entertaining
Leave a Reply