Southern Tablescape Thursday on the Porch
Submitted by Christi

We have been enjoying the porch all week. If you've missed it, check this weeks posts on A Southern Life. Today, we'll have lunch on the porch. Yes, I braved the wind. Sorry, it wrinkled the tablecloth a little, but, those things are okay when you are enjoying the porch. Y'all check out how my little dog, Bailey (the ham) managed to get in the picture.
Wish you could all join me for lunch on the porch. Life is just better when you can sit on a porch.
Ya'll go on over and see the other great tablescapes at Between Naps on the Porch.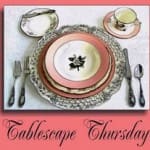 Today's Lagniappe: Spring Soup
This soup looks and tastes delicious and takes advantage of the abundance of Spring asparagus.
* 1/4 cup butter
* 1 pound leeks, chopped
* 1 onion, chopped
* 2 quarts water
* 3 large potatoes, chopped
* 2 large carrots, chopped
* 1 bunch fresh asparagus, trimmed and cut into 1 inch pieces
* 1/3 cup uncooked long-grain white rice
* 4 teaspoons salt
* 1/2 pound fresh spinach
* 1 cup heavy cream
1. Melt the butter in a large pot over medium heat. Stir in the leeks and onion, and cook until tender.
2. Pour water into the pot. Mix in potatoes, carrots, asparagus, and rice. Season with salt. Bring to a boil, reduce heat, and simmer 30 minutes, until vegetables and rice are tender.
3. Stir spinach and heavy cream into the soup mixture, and continue cooking about 5 minutes before serving.
Tags: Southern Living, Southern Porch, Southern Table
28 Responses to "Southern Tablescape Thursday on the Porch"
Leave a Reply