Southern Red, White and Blue
Submitted by Christi
It was an entertaining weekend. We entertained in shifts. First, on Saturday, one of my husbands friends from out of town came to visit for a while. They watched the Hogs play in the collage world series. After he left, we had three couples over for drinks on the porch. That was a lot of fun. One of the wives was not able to make it on Saturday night so she and her husband came back over Sunday evening. Sunday afternoon, my neighbor next door came over and we visited on the porch for a while. Lots of fun with friends.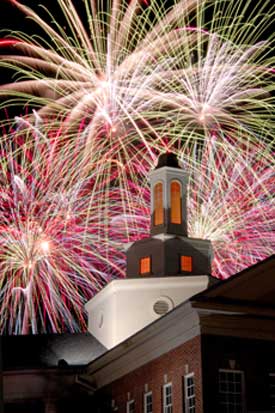 June 14th – Flag Day, July 4th – Independence Day. This is the time of year that we all want to bring out the flag to fly in front of the house and celebrate our independence. Here in Mountain Home, Arkansas, we will be celebrating again this year with the 10th annual Red, White and Blue Festival. It is a 4 day festival with a parade, a rodeo, an air show, free kids activities, an art show, car show, concerts and then ending with a spectacular fireworks show. It is said that this fireworks show ranks in the top 5 in the  South Central region of the U. S.
This fireworks show has really undergone a metamorphosis. It started out with some friends shooting fireworks off in a field. Now, the entire county is involved. The mayors, the police and firemen, the businesses. It is a wonderful example of a community working together for everyone's enjoyment.
My husband and I are privileged to be one of the sponsors of the event. It is a great family oriented event in this beautiful little town. One of the other sponsors of the festival is Carter's Jewel Chest. They designed this beautiful pendant that is being raffled off and the winner will be announced Saturday night of the festival.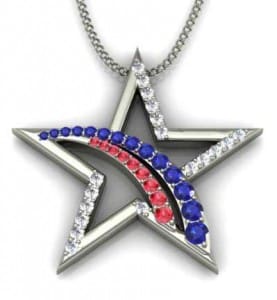 If y'all are around the area, stop on by. We would love to see you and I can guarantee you a good time!
To see some really great posts for Blue Monday and Metamorphosis Monday, click on the logos above.
Today's Lagniappe: Feta and Spinach Stuffed Mushrooms
A yummy bite on a hot day.
* 1 (10-ounce) package frozen spinach, defrosted and drained
* 1 (14-ounce) package large, stuffing-size mushrooms (approx. 9 mushrooms)
* 4 ounces  feta cheese, crumbled
* 2 small cloves of garlic, finely chopped
* 2 tablespoons olive oil plus more for drizzling
* Salt and pepper, to taste
1. Preheat oven to 350 degrees F.Spray a large baking sheet with cooking spray and set aside.
2. In a small frying pan, heat 2 tablespoons olive oil over medium heat. Add garlic and cook for 15 seconds, stirring constantly. Add the spinach, salt and pepper and cook until the spinach is heated through and the garlic is evenly distributed. Remove from heat. Allow spinach to cool slightly.
3. In a medium bowl, combine the spinach with the feta and stuff each mushroom with about 1 tablespoon of the mixture.
4. Remove the stems from the mushrooms (if present) and set aside for another use. Place the mushroom caps on the prepared baking sheet and bake for approximately 20-25 minutes or until mushrooms are soft and darker in color.
Tags: Southern Festival
2 Responses to "Southern Red, White and Blue"
Leave a Reply