Southern Bit of Purple
Submitted by Christi
It's time for Tablescape Thursday once again with Susan from Between Naps on the Porch.
You've seen these dishes before but today, I wanted to bring out the purple in them.
I really enjoyed the bit of purple. Hope you did too. Go see Susan at Between Naps on the Porch for more tablescapes.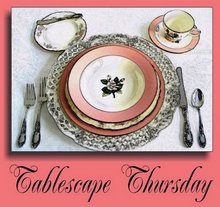 .
Today's Lagniappe:  Rosemary Pork Tenderloin
Rosemary is growing very well right now. Here is a great way to use it.  Sorry, you have to turn on the oven for this one but it is worth it. It is so hot here, I'm trying to avoid adding any heat by turning on the oven.
3 pounds pork tenderloin
1 tablespoon olive oil
2 cloves garlic, minced
3 tablespoons dried rosemary
Preheat oven to 375 degrees F.

Rub the tenderloin liberally with olive oil, then spread the garlic over it. Place it in a roasting pan and sprinkle with the rosemary.

Bake at 375 degrees F for 2 hours, or until the internal temperature of the pork reaches 160 degrees F.
Tags: Southern Table
20 Responses to "Southern Bit of Purple"
Leave a Reply