Southern Touch of Fall
Submitted by Christi
I can't believe that this Tuesday is already the first day of fall! It certainly doesn't feel like fall yet, but, I decided to go ahead and start adding some fall touches around the house.
That is a pretty good start for now. I find myself adding things all season. I love getting ready for fall. It is just a nice quiet peaceful time before the business of Christmas.
I've gotten out my apple and spice scented candles and will be putting out the fall decor on the front door soon. Then . . . I get to start thinking about the dining table! That is always fun.  So, here's to Autumn!
Happy Fall Y'all!
See what others are up to in their homes on this Met Monday with Susan.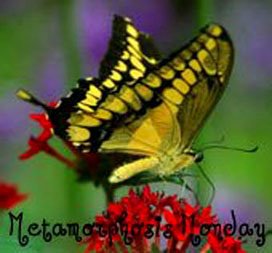 Today's Lagniappe: Oatmeal Scotchies
One of my fall favorites
* 1 1/4 cups all-purpose flour
* 1 teaspoon baking soda
* 1/2 teaspoon salt
* 1/2 teaspoon ground cinnamon
* 1 cup (2 sticks) butter or margarine, softened
* 3/4 cup granulated sugar
* 3/4 cup packed brown sugar
* 2 large eggs
* 1 teaspoon vanilla extract or grated peel of 1 orange
* 3 cups quick or old-fashioned oats
* 1 2/3 cups (11-oz. pkg.) NESTLÉ® TOLL HOUSE® Butterscotch Flavored Morsels
Directions:
PREHEAT oven to 375° F.
COMBINE flour, baking soda, salt and cinnamon in small bowl. Beat butter, granulated sugar, brown sugar, eggs and vanilla extract in large mixer bowl. Gradually beat in flour mixture. Stir in oats and morsels. Drop by rounded tablespoon onto ungreased baking sheets.
BAKE for 7 to 8 minutes for chewy cookies or 9 to 10 minutes for crisp cookies. Cool on baking sheets for 2 minutes; remove to wire racks to cool completely.
PAN COOKIE VARIATION:
Grease 15 x 10-inch jelly-roll pan. Prepare dough as above. Spread into prepared pan. Bake for 18 to 22 minutes or until light brown. Cool completely in pan on wire rack. Makes 4 dozen bars.
15 Responses to "Southern Touch of Fall"
Leave a Reply