I'll have to admit, when ever it is even the least little bit warm enough, I'm ready to move it outside. I love having morning coffee on the porch, lunch on the porch, dinners on the porch. I'll even try to arrange to have meetings on the porch. Anything to be out enjoying the sunshine! Of course, eventually, it will be a little too warm to be out on the porch until late, late in the evening. That is okay – I'm there, watching the lightning bugs and listening to the cicadas!
This evening, it is just another supper on the porch. I'll try to keep this fresh, but sometimes, I just enjoy the regular evening on the porch without anything fancy. But . . . not this evening. This evening, I broke out the china!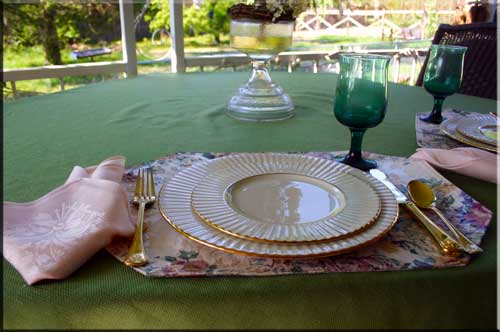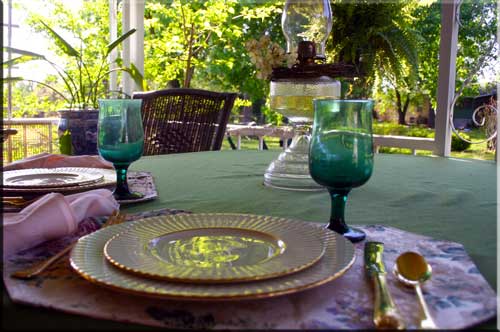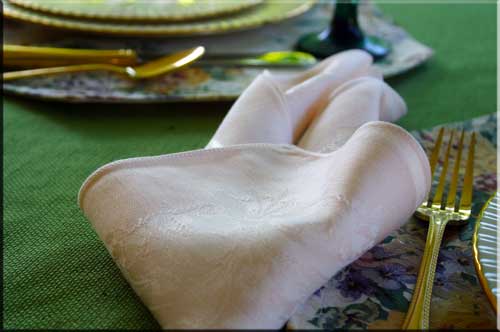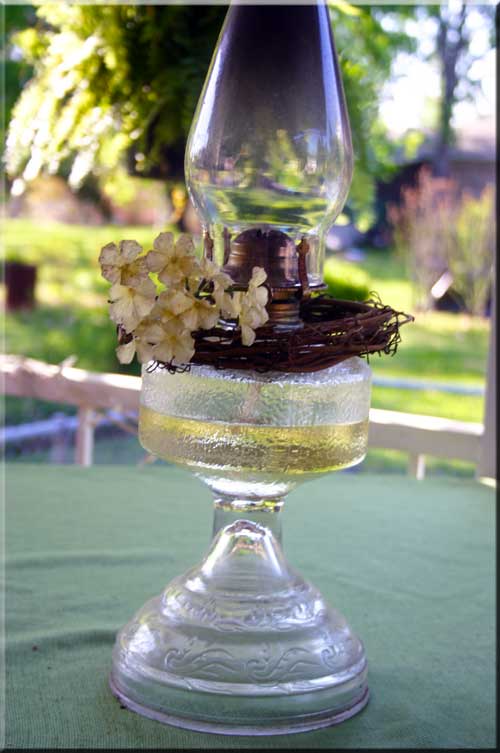 What is going happening on your porch? Check out some great tablescapes at:
Today's Lagniappe:  Pickled Asparagus
It is asparagus season! Make a batch of these to serve on an antipasto platter or with a Bloody Mary.
* 1 onion, thinly sliced
* 4 lbs fresh asparagus
* 1 red bell pepper, seeded, and cut into thin strips
* 5 cups white wine vinegar
* 2 cups water (distilled is best)
* 4 tablespoons sugar
* 4 tablespoons pickling spices
* 2 teaspoons pickling salt or kosher salt
1. Place several slices of onion in the bottom of two 1-quart jars.
2. Trim the asparagus to fit in the jars; pack them in with the cut-end facing down.
3. Place the pepper strips in between asparagus.
4. Combine the remaining ingredients in a saucepan, and boil over moderate heat for 10 minutes.
5. Pour into the jars, leaving 1/2-inch head space.
6. Seal the jars according to the manufacturer's directions; process for 20 minutes in boiling water bath.