Southern Weekend
Submitted by Christi
It will be a football weekend around here with the OU/Texas and Arkansas/Florida games. We may have a little sun, which will require us to get out of the house (since it has been raining forever!). Game days call for easy and yummy recipes.
Baked Potato Soup
3/4 cup chopped Leek, washed well and drained
4 large Garlic cloves, chopped coarse
1 tablespoon Olive Oil
1 (1/2 pound) russet Pre-Baked Potato
2 1/2 cups Chicken Broth
3 tablespoons Heavy Cream
1 1/2 tablespoons minced Fresh Chives, Bacon Bits, and Sour Cream
In a heavy saucepan cook the leek and the garlic with salt and pepper to taste in the oil over moderately low heat, stirring, until the leek just begins to soften, add the potato, peeled and cut into 1-inch pieces, and the broth and the heavy cream, and simmer the mixture, covered, for about 10 minutes. At this point you can also add some grated cheddar cheese into the soup if you like. When serving, add a dollop of sour cream on top and in the center of the soup. Garnish with bacon bits and chives.
Chili Cheese Dip
My brother taught me how to make this one. It is super easy and delicious with tortilla chips
2 (8 ounce) packages cream cheese, softened
1 (15 ounce) can chili without beans
16 ounces shredded Cheddar cheese
Heat all ingredients together over medium heat in a saucepan. This can also be heated in the microwave.
Fall Mix
1 bag of candy corn
1 can of salted peanuts
Mix together and enjoy!
We'll be here cheering on our teams and hopefully catching some sunshine as well! What are you doing this weekend?
Today's Lagniappe:  Chocolate Toffee Bars
Something sweet to go along.
6 tbsps unsalted butter, softened
1/2 cup brown sugar
1 1/2 tsp pure vanilla extract
1 cup all-purpose flour
1/4 tsp salt
1 cup semisweet chocolate chips
1/2 cup sliced almonds
1. Preheat oven to 350°F and lightly grease an 8-inch square baking pan.
2. Cream butter and brown sugar together in a large bowl, then blend in vanilla.
3. In a separate small bowl, whisk together flour and salt, then add to butter mixture and mix well. Spread dough evenly into the prepared pan, and bake for 17-22 minutes or until golden brown.
4. Sprinkle the top with chocolate chips, and cover the pan with foil or another pan to help melt the chocolate. After a few minutes, spread the chocolate with a spatula until evenly coated and smooth. If chocolate does not melt, pop the pan back in the oven for a minute.
5. Sprinkle almonds immediately over the top and press in gently so they will stick. Let cool completely and cut into desired shapes. Store in an airtight container.
Today, we are joining Foodie Friday at Gollum's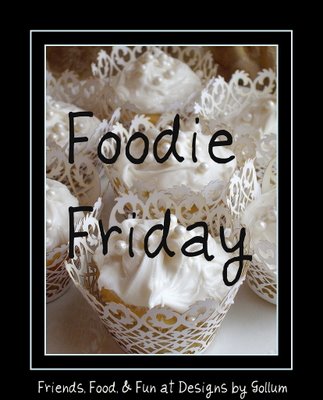 10 Responses to "Southern Weekend"
Leave a Reply