I love Saturday's! Even though I often work on Saturday's it is just more relaxed and laid back. I like to get up early and have coffee on the back porch and read a good book. Here are some of the sites from my perch on the porch.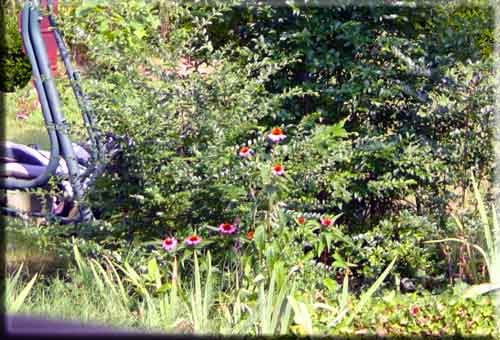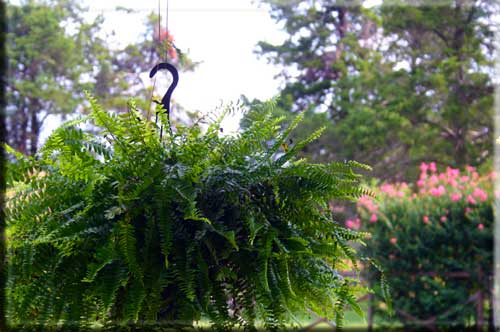 I also have a lovely view of the bird feeder with lots of birds and an occasional squirrel. My dog loves to chase the squirrels off. It is just a simple pleasure of a Summer Saturday morning!
And, it is also:
Today's Lagniappe: Cinnamon Basil Cookies
I know I posted a similar recipe yesterday, but I think I like this one better. It is from my 1997 Southern Living Cookbook.
5  fresh cinnamon basil leaves*
1/4  cup  sugar
1  cup  butter or margarine
2  cups  all-purpose flour
1/4  teaspoon  salt
1/2  teaspoon  ground cinnamon
1  cup  chopped pecans
1 1/2  teaspoons  vanilla extract
Process basil and sugar in a blender or food processor until basil is minced.
Melt butter in a large saucepan; add basil mixture, flour, salt, and cinnamon. Stir in chopped pecans and vanilla; remove from heat.
Drop dough by 1/4 cupfuls onto ungreased baking sheets; flatten to 1/4-inch thickness with bottom of a large glass.
Bake cookies at 300° for 40 minutes or until golden. Remove to wire racks to cool.
*Regular basil may be substituted; increase ground cinnamon to 1 teaspoon.