Looking for lots of great Independence Day table ideas for:
Here is what we are doing around here . . . Of course, we just had the Red, White and Blue Festival last weekend, so this coming weekend, we will grill some barbecue ribs and enjoy the porch!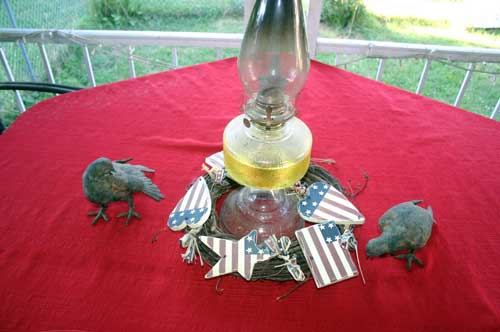 Today's Lagniappe: Stuffed Strawberries
Something that is no bake and delicious – from Paula Deen
20 whole large strawberries, hulled
8 ounces cream cheese, softened
1/4 cup confectioners' powdered sugar
1/4 teaspoon vanilla or almond extract
2/3 cup chopped pecans
Cut a thin slice from the bottom of each strawberry so the berries stand upright. Place berries, cut side down, on a serving platter. Carefully cut the berries into 4 wedges, cutting almost to, but not through, the bottoms with a criss-cross cut. Fan wedges just slightly, taking care not to break them. Set aside.
In a mixing bowl, beat together the cream cheese, sugar, and vanilla until combined but still stiff. Using a teaspoon or pastry bag with decorative tip, fill the strawberries with the cream cheese mixture. Sprinkle chopped pecans on top of the stuffed strawberries. Cover and refrigerate until ready to serve.