I had some tomato soup for lunch today. As I was eating it, I was reminded of how much I loved the tomato basil soup at la Madeleine.  Oooh, it is so good. It is thick and creamy and so, so yummy. Just what is needed on a rainy fall day.
La Madeleine has 60 locations in Dallas/Fort Worth, Austin, San Antonio, Houston, Baton Rouge, New Orleans, Atlanta, Washington D.C. and surrounding areas.
Well, I don't live near a la Madeline's anymore, so I had to go looking for a copy cat recipe. Here is the recipe I found from several sites. They all refer to the same source, the Fort Worth Star Telegram.
La Madeleine Tomato Basil Soup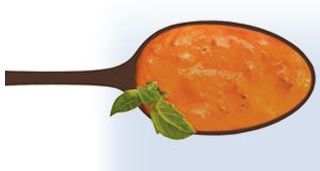 1 hour | 15 min prep
SERVES 8
* 4 cups fresh tomatoes, cored, peeled, and chopped (8-10) or canned whole tomatoes, crushed
* 4 cups tomato juice (or part vegetable or part chicken stock)
* 12-14 basil leaves, washed fresh
* 1 cup heavy cream
* 1/4 lb sweet unsalted butter
* salt
* 1/4 teaspoon cracked black pepper
* lemon juice (optional)
1. Combine tomatoes, juice/and or stock in saucepan.
2. Simmer 30 minutes.
3. Puree, along with the basil leaves, in small batches, in blender, food processor. Return to saucepan and add cream and butter, while stirring, over low heat. Garnish with basil leaves and serve with your favorite bread.
Excerpted from an article by Beverly Bundy of the Fort Worth Star-Telegram around May 20. 1994.
She wrote, "Once a year, in January I run a column of our most requested recipes — This year, that column included the recipe for La Madeleine's popular tomato basil soup. I continue to get at least 10 calls a week asking for the recipe. So here it is, once again — ".
Wish the basil in my garden was still growing. I may have to start a pot indoors.
Pair this with a grilled cheese sandwich and you have got yourself a winner!
Now, if I could just get Daddy Jack's Clam Chowder recipe, I could be in soup heaven.
Check out all the great recipes at Designs by Gollum for Foodie Friday.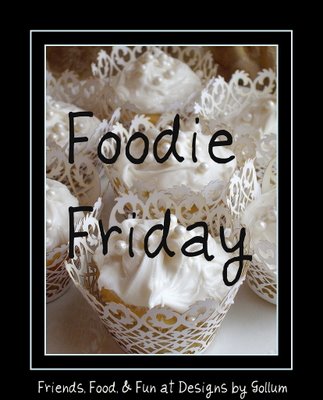 Today's Lagniappe:  la Madeleine's Country Potato Soup
While I was looking for the tomato basil soup recipe, I found this recipe for another great la Madeleine soup.
1/8 cup unsalted butter
2 leeks, thinly sliced
1 large yellow onion, sliced
1 1/2 qt. chicken stock
4 large peeled potatoes, sliced evenly in 1/4 inch slides
2 sprigs fresh thyme
1/2 cup heavy cream
1 cup cheddar cheese
1/2 cup bacon cooked and diced
salt to taste
In a large saucepan, add butter, leeks and onions, and cook.
(Do not brown vegetables.) Add chicken stock, potatoes, salt and fresh thyme.
Cook for 40 minutes over medium heat, stirring frequently to avoid scorching.
Add cream, bring to a boil and serve hot.
Garnish with Cheddar cheese and diced bacon.