My sweet niece, Taylor, sent me some pics of her family's home with their Christmas decorations.  Taylor is the oldest daughter of my little sister, Linda and her husband, Mark. Their beautiful younger daughter is Brenden.
I wanted to share a few of the pictures that they sent. There will be more to come from my mother and my sisters and even from me as the magical Christmas season unfolds!
My sister and her husband Mark built this house five years ago. Mark is the pastor of Wickline United Methodist Church in Midwest City, Oklahoma. Every year, they open their home to the members of their church for a holiday open house. This year, the "shut-ins" are getting to get out and take a tour of lights and visit my sister's home as well as other homes that are on their open house tour.
Today's Lagniappe: Linda's Holiday Chicken Casserole
This recipe was given to me by my sister Linda (including her notes). YUM!
Stew 4 chicken breast ( I usually do 5) reserve broth
Combine ½ cup melter butter
seasoning packet from stuffing mix
2 Stove Top Stuffing mix ( I use wild rice)
Combine 2 cups sour cream
2 cans cream of chicken (or mushroom) soup
1 ½ cups broth
In 9 X 13 dish:
put layer of crumb mixture
chicken
liquid mixture
remaining crumbs
top with slivered almonds  (don't add until ready to cook, if your freezing)
Bake at 350 for 30 minutes
Time for Deck the Halls with Thoughts From Over The Rainbow! – Every Tuesday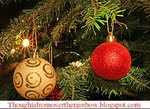 It's a three-for Tuesday! Join these great blogs for more recipes and great ideas.
Balancing Beauty and Bedlam's Tasty Tuesday
Blessed with Grace's Tempt My Tummy Tuesday