Okay, so, I know not everybody likes grits. If you don't like grits, try these recipes and see if you don't change your mind. If you really hate grits, you may just want to skip this post (which would make me sad!).
A friend picked up the 2007 Southern Living Annual Recipes Cookbook at a used book sale and then passed it on to me! Isn't it nice to have good friends like that? I collect cookbooks and enjoyed adding this one to my collection. That isn't just 2nd time around – that makes a third time around.
There is a section in September about grits that I found interesting. You know, grits are really just a kind of neutral base for carrying what ever flavors you choose. Kind of like rice, only creamier. So . . . how about adding some flavors like shrimp, greens, tomatoes:
In all of these recipes, use either quick cooking or regular grits. NEVER instant!
Creamy Grits Casserole
1-1/4 cups uncooked grits.
2 cups chicken broth
2 cups milk
1 tsp. salt
1/4 tsp. ground red pepper
1/2 cup butter, cut into cubes
1 (10 oz.) block sharp Cheddar cheese, shredded
1 (4 oz.) smoked Gouda cheese round, shredded
2 large eggs, lightly beaten
Bring first 5 ingredients to a boil in a medium saucepan over medium-high heat; reduce heat to low, and simmer, stirring occasionally, 4 to 5 minutes or until thickened. Stir in butter and cheeses until melted.
Gradually stir about one-fourth of hot grits mixture into eggs; add egg mixture to remaining hot grits mixture, stirring constantly. Pour grits mixture into a lightly greased 2 1/ quart baking dish.
Bake at 350 degrees for 35 to 40 minutes or until golden brown and bubbly around edges. Let stand 5 minutes before serving.
Makes 8 servings.
Covering grits with some type of gravy is a good idea.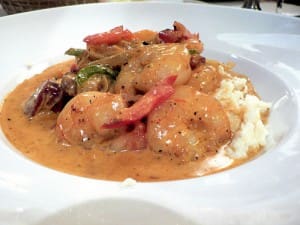 Shrimp and Tasso Gravy
1 lb. peeled, medium-size raw shrimp
1 tbsp. barbecue seasoning
3 tbsp. olive oil
1/2 butter
1/2 chopped tasso ham
1/2 cup all-purpose flour
1-1/2 cups chicken broth
1/2 cup half-and-half
2 tbsp. chopped fresh parsley
Devein shrimp. Rinse and pat dry with paper towels. Sprinkle barbecue seasoning evenly over shrimp.
Saute shrimp in hot oil in a large skillet over high heat 3 to 4 minutes or just until shrimp turn pin. Remove shrimp from skillet.
Melt butter in skillet over medium heat; add tasso ham, and saute 5 minutes. Gradually whisk in the flour. Cook, whisking constantly, 1-1/2 to 2 minutes or until mixture is golden brown. Whisk in chicken broth and half-and-half. Bring to a boil. Boil, whisking constantly, 6 to 8 minutes or until smooth and thickened. Stir in shrimp and parsley. Makes 4 servings.
One more.
Tomato Gravy
2 garlic cloves, minced
1 medium onion, finely chopped
2 tbsp. olive oil
4 large tomatoes, chopped
1/2 cup whipping cream
1/2 tsp. salt
1/2 tsp. ground red pepper
1/2 tsp. dried thyme
Saute garlic and onion in hot oil in a medium skillet over medium heat 5 minutes or until tender. Stir in tomatoes; reduce heat to low, and simmer, stirring occasionally, 20 minutes.
Stir in whipping cream and remaining ingredients; simmer, stirring occasionally, 4 to 5 minutes or until slightly thickened. Makes 2-1/2 cups.
Today's Lagniappe: Tasso Ham Substitute
Tasso is a spicy smoked ham, used for seasoning. If you can't find it, you can order it online or use this substitute (courtesy of Commander's Kitchen – Commander's Palace, New Orleans – a fantastic cookbook, I would highly recommend)
1 ounce ham cut in strips tossed with 1 part cayenne and 3 parts paprika.
It's a four-for Tuesday! Join these great blogs for more recipes and great ideas.
Balancing Beauty and Bedlam's Tasty Tuesday
Blessed with Grace's Tempt My Tummy Tuesday
The Gypsy's Corner's Three or More Tuesday